Plant 5 to Distribute Clean Water for Generations to Come
The Hicksville Water District (HWD) is proud to announce that it celebrated the opening of its Plant 5 Treatment Facility with a ribbon-cutting ceremony on May 7. Many of the area's elected officials and members of local civic associations were on hand to join in the festivities, which signified the implementation of yet another tool for the District to use in treating emerging contaminants in the community's water.
"Plant 5 represents yet another great step forward in the Hicksville Water District's mission to rid our water of emerging contaminants," said HWD Chairman Nicholas Brigandi. "The District has worked incredibly hard to make sure that our residents never have to worry about the quality of their water. It was fantastic to see so many public officials come out in recognition of our dedication to the community, and we thank all those who attended for their support."
Joining HWD officials at the ribbon cutting were State Senators Jim Gaughran, Anna Kaplan and Kevin Thomas; State Assemblyman Michael Montesano; Town of Oyster Bay Supervisor Joseph Saladino and Town Councilman Tom Hand; Nassau County Legislators Laura Schaefer and Rose Walker; Jake Blumencranz of the Nassau County Police Department; Jeffrey Negron, President of the Northwest Civic Association of Hicksville; and Adam Firester, President of the Hicksville Garden Civic Association. The District received six total citations from the attendees.
With Plant 5 operational, the HWD now has eight different wells online, the most of any water district on Long Island. The state-of-the-art facility is equipped with two Advanced Oxidation Process (AOP) systems and four Granular Activated Carbon (GAC) filters, all of which represent the most advanced and effective water treatment technology available.
Ever since New York State started regulating emerging contaminants in our water, the HWD has been extremely proactive in ensuring that residents' water remains as safe and top-quality as possible. These efforts have paid off tremendously, as the community's water has never exceeded that state's strict standards. However, the work is not done and it is vital that the District continue improving its infrastructure through new projects such as Plant 5, as well as the advancement of current treatment practices.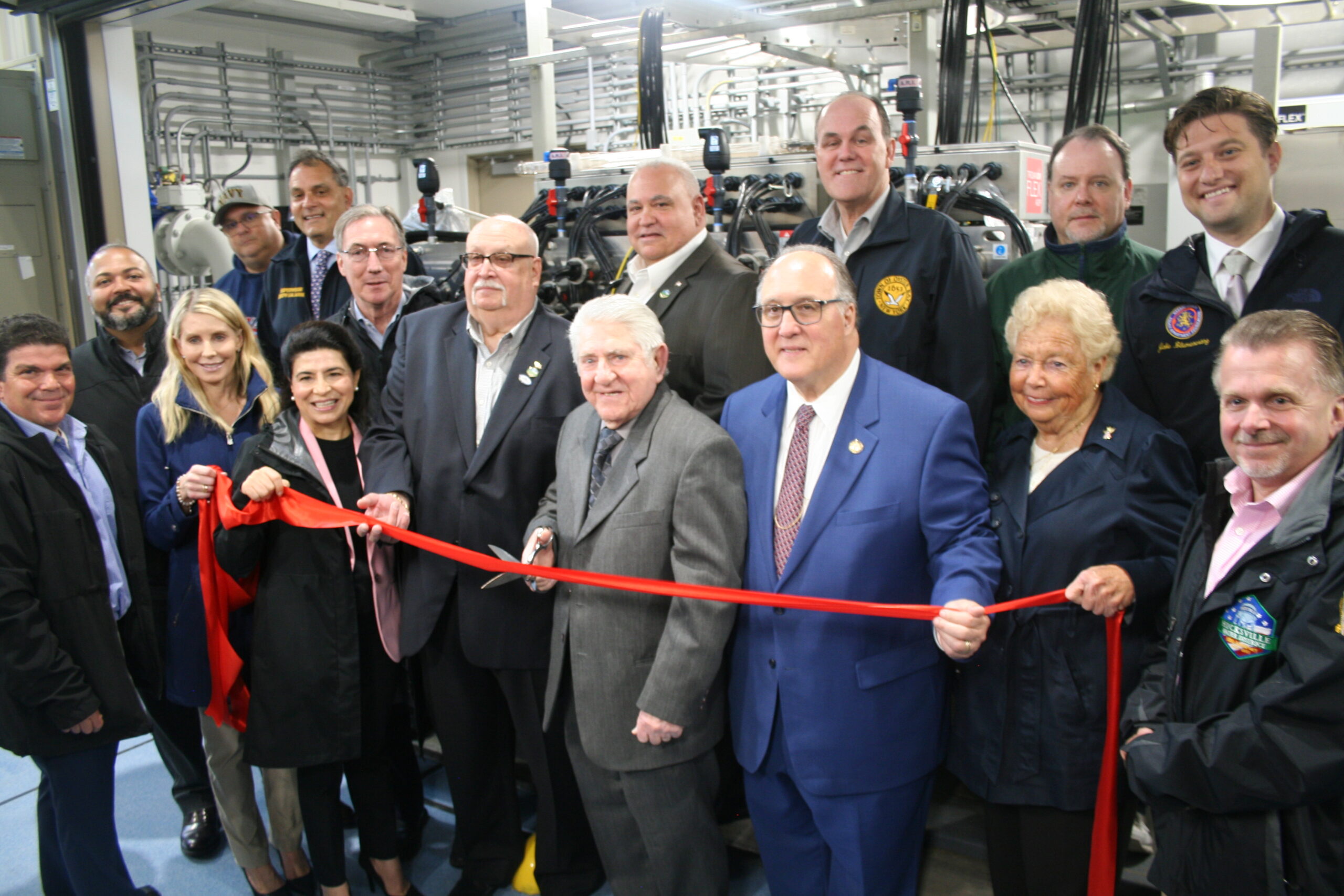 Photo Caption: Hicksville Water District Chairman Nicholas Brigandi, center, Commissioner William Schuckmann, left of center, Commissioner Karl Schweitzer, above center, Treasurer Vincent Abbatiello, far left, and Superintendent Paul Granger, far right, were joined by numerous elected officials and civic association members in cutting the ribbon to the HWD's Plant 5 treatment facility.