2022 Water Main Replacement Project
The Hicksville Water District has started a large-scale water main replacement project in parts of the District's southeast portion. The water mains in this area's distribution system date back to the 1950s, and the HWD is determined to get ahead of any potential problems the current system presents by engaging in this infrastructure overhaul. Over the course of the year-long project, residents will benefit from the replacement of approximately 14,000 feet of water mains, 25 fire hydrants and 320 water services from the District's water main to the curb shut-off valve.
The District is committed to minimizing disturbances and making this process as easy on affected residents and their families as possible.
The first phase of the project was completed in 2017 and included installation of new water main on Lee Ave., London Blvd. (Michigan Drive to Cottage Blvd.) and Michigan Drive. The rest of the project will take place over the course of three phases, all of which will focus on different streets within the area. The locations and approximate times during which replacements will take place are as follows:
Project Phase 1B from August to November, 2022: Cottage Blvd., Auburn Lane and Essex Lane
Project Phase 1C from November, 2022 to May, 2023: Garden Blvd., George Ave., Balsam Lane, Short St. and Lenore Ave.
Project Phase 1D from June to August, 2023: Linden Blvd. (from Lee Ave. to Michigan Drive) and Farm Lane
For the latest information on where water main replacement construction is occurring, please refer to the Live Map on the website homepage or click here.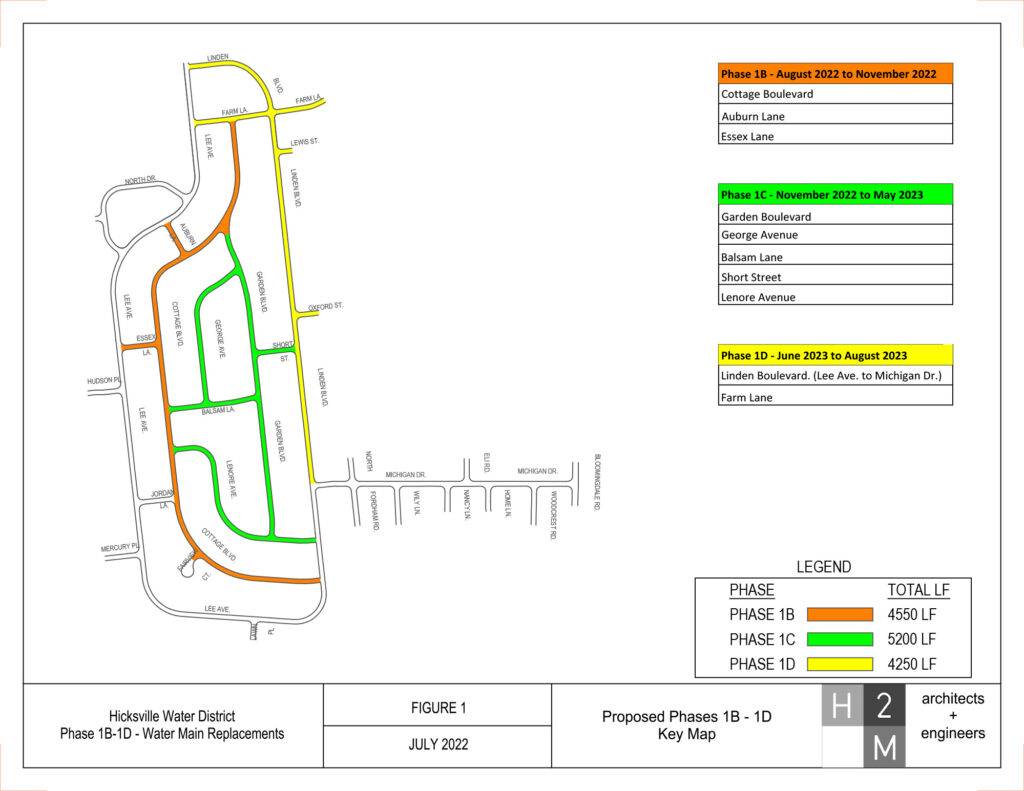 Work is expected to occur from 7:30 a.m. to 5 p.m., Monday through Friday, with limited road closures. Residents whose driveways may be affected will be notified before work in their area begins. Traffic may be closed off during certain construction times, but all roads will be reopened outside of work hours.
The HWD conducted a virtual community meeting with residents of the area to present all related information and answer any questions. The meeting can be viewed below.
You can also view the presentation from the meeting below, as well as a project fact sheet.
PowerPoint Presentation
Open link in new tab.

Fact Sheet
Open link in new tab.

If you have additional questions, the District is available by phone at 516-931-0184 or via email at info@hicksvillewater.org.
2022 Water Main Replacement Project
The State of Our Water Supply
Superfund Site Information And Fact Sheet