Employees Nancy Saal and Chris Moskos Have Been Dedicated to Service the Hicksville Community for More than 35 Years
While sad to see them go, the Hicksville Water District (HWD) would like to honor two dedicated employees, Nancy Saal and Chris Moskos, who have since retired from their positions at the District. Both Nancy and Chris have spent more than 35 years with the District and have been instrumental in carrying out its mission of quality service.
"Nancy and Chris have been valued members of our team for decades and they are surely going to be missed here at the Hicksville Water District," said HWD Chairman Karl Schweitzer. "Both have committed their professional careers to helping do what is best for the Hicksville community. They each embody and exhibited every day what make special districts so special."
Nancy Saal began her career with the HWD in February 1986. Starting out as a clerk typist, she quickly became a fundamental member of the District office. She had a knack for customer service, and quickly became recognized for her kindness and pleasant demeanor. Over the years, Saal's attention to customer concerns and ability to find positive outcomes has led to countless thank you notes from residents showing their appreciation.
Chris Moskos, a born and raised member of the Hicksville community, began with the District in March 1986 as a water servicer. He worked his way up the ladder to become the lead operator, putting him in charge of water plant operations. In this role, he ensured that all plants were running smoothly and all water quality tests were done properly. In addition to being a 35+ year employee of the Water District, he has also been heavily involved in the Hicksville Volunteer Fire Department and served as Chief of the department.
Photo Caption: Recent Hicksville Water District retiree Chris Moskos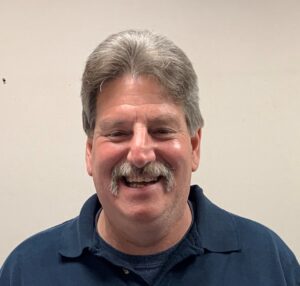 Photo Caption 2: Recent Hicksville Water  District retiree Nancy Saal